Back
HIGH SCHOOL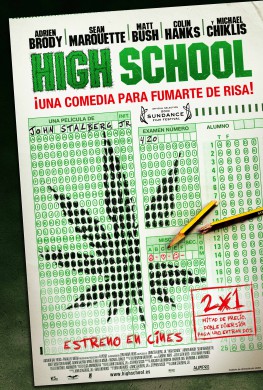 Estreno
The day before gaining a scholarship to the best student in his class, Henry Burke (Matt Bush) dare to try for the first time the famous herb. It's the end of the school year in high school Morgan, and director Leslie Gordon (Michael Chiklis) decides to organize a mandatory drug test for all students.

Do not pass the test will be grounds for immediate expulsion. Henry has two options: stay and lose his college scholarship, or ally with his friend fumeta Breaux (Sean Marquette) to hatch a plan.

They decide to steal a lot of potent marijuana dealer Psycho Ed (Adrien Brody). His plan, replace the brownies annual gathering funds for schoolwide positive to the test.

But with more and more students placed with each piece of brownie and Psycho Ed beside himself after discovering the theft of his crop, and Henry Breaux must make your plan will not get out of hand ...
casting
BARBARA FIORENTINO
FMW Casting

Executive producer
BJ RACK

mounting
GABRIEL Wrye

Costume Design
MARIE FRANCE

Production Design
SETH REED

Director of Photography
Mitchell Amundsen

co-executive
STEVEN M. Berez
Joseph Isgro

Executive producer
OLGA MIRIMSKAYA

Executive Producers
RYAN LEWIS
Stephen Susco
John Stalberg Jr.
Arkadiy Golubovich

Associate Producers
ARMEN MAHDESSIAN
MIKE SHAHOUD

produced by
Warren Zide
RAYMOND J. Markovich
Arkadiy GOLOBUVICH

script
John Stalberg Jr.
ERIC LINTHORST

address
John Stalberg Jr.
ABOUT THE FILMMAKERS

-John Stalberg, JR. (Director / Co-writer)
John was born literally in the heart of the birthplace of cinema ... Cedars of Lebanon on Hollywood Boulevard.
His baptism in the film was a work in the camera department of Warner Brothers, when he was 18, from there began a long technical education of filmmaking. Bachelor of Fine Arts in Film Production at the University of Colorado and became commercial director after graduation.

As a producer of Cosmic Entertainment (the company of Goldie Hawn, Kurt Russell, Oliver Hudson and Kate Hudson) Stalberg continued producing, writing and directing short films that won numerous awards at film festivals.

His latest short film, 'Mr. Dramatic "(9 min - 2005), was selected for the official selection at the Tribeca Film Festival and won awards including Best Comedy Film Festival in Santa Cruz, the Audience Award at the Chicago International Film Festival and was also a finalist for Best Short Film Festival in U.S.

HIGH SCHOOL is the hallmark of Stalberg in his directorial debut. He was executive producer, co-writer and director through his company Zero Hour Films with partner Stephen Susco.

-Stephen Susco (Executive Producer / Co-writer) For the past thirteen years, Stephen has written and sold over forty projects to major Hollywood studios, and has written for a variety of acclaimed directors and producers.

Stephen's first film, The Scream, was produced by legendary director Sam Raimi. It cost less than $ 10 million and grossed nearly $ 200 million worldwide in its theatrical release. Stephen wrote the second part the following year, the Cry II.
Stephen wrote and co-produced RED (starring Brian Cox), which premiered in 2008 at the Sundance Film Festival, and was released in theaters by Magnolia Pictures.
Under his newly formed company Zero Hour Films (with partner John Stalberg, Jr.), Stephen is co-writer and executive producer of the comedy High School.
Stephen has just finished THE FRESHMAN of Sam Raimi and THE CHRONICLES for Paramount BUTCHERHOUSE, and is currently writing Hack / Slash for Relativity Media and THE TEXAS CHAINSAW MASSACRE for Twisted Pictures. He is also producing the screenplay with producer ZERO.DARK.THIRTY Michael Douglas, and developing a TV series with director Gore Verbinski (Pirates of the Caribbean 1-3).